Software Development Outsourcing: Should I Outsource My Project?
Are you thinking about outsourcing your software development project to a third-party vendor? 
We've helped companies successfully outsource projects for over 20 years. With the right partners and approach, outsourcing software development is incredibly valuable. It taps into an exterior reserve of experience and expertise to create especially positive results. 
Bringing in a dedicated team of software engineers has the potential to increase efficiency and reduce your time to market. Outsourcing software development can ultimately save valuable time and financial resources for your business.
However, depending on your project and business needs, outsourcing may not be the right option. The answer to the question of whether to outsource your project lies in the details.
Below we will walk you through when it makes the most sense to outsource software development and outline what questions you should ask to find out if it's the best choice for your business.
What does software development outsourcing mean?
Software development outsourcing can be defined as the practice of working with a third-party vendor to help your business manage and accomplish all the tasks in a software development project.
There are many perks that come with bringing on the right third-party partner. Keep reading to find out some of the benefits your business could receive if you choose to outsource.
Why do companies outsource software development?
You have a development team in-house that could take on your software project. So, why would you need to outsource?
In a nutshell, companies outsource because it saves them time. This allows their teams to focus on their top priorities — the most critical needs for the business. It also provides the companies with cost savings by not having to hire permanent employees if they are not needed long-term.
What are some other pros to outsourcing?
Faster speed to market 
If you have a smaller team or if your team's capacity is maxed out, it could be challenging for them to take on a new project without sacrifice. 
What's nice about outsourcing is you don't have to pull your team from their current work. Additionally, you can use third-party resources as an extension of your team to get the job done faster.
For example, if you chose to build your project in-house, it might take your team one year to complete it. If you outsource software development, the dedication of specific resources means that same project can be done in a matter of months.
Scale your team
Software development projects usually require a more substantial team infrastructure. Knowing what it will take to complete your project, you may be trying to decide if you are going to hire more people internally or work with an outsourcing team to help you fill in the gaps. 
Try thinking about it this way. Depending on your project's needs and requirements, you might need to hire 1-3 of these types of positions:
Android Developer
iOS Developer
Back-end Developer
Software Architect
Designer
Project Manager
QA Specialist
Data Scientist
Even if you don't bring on all these positions, you'll have to cover the salaries and benefits of the ones you do hire. Why spend the extra time finding the best talent and financial resources to hire if you only need these positions filled temporarily? 
If you outsource your project, you'll be able to build the team you need without having to invest in internal staffing costs. Maybe your in-house team already tried to take the project on. Perhaps you're working with a third party that is not delivering as expected. Either way, finding the right partner can address those issues.
Most accomplished and competent third-party vendors are also able to come on board at any point in your project.
Access to specific skills
Is there a particular technology that your team may not be experts in? To do the project, your team would have to spend time learning it. What if they won't use it very often outside of this one critical but time-limited project?
Outsourcing allows you to not only have access to the positions needed but also to specific areas of expertise that may be out of your team's current wheelhouse. Bringing in help can make sure your team can stay focused on what they do best instead of having to take time out to skill up. 
If your team does have the manpower and bandwidth for a project, and they lack the knowledge, some outsourcing partners offer mentoring as an option. It's an opportunity to build valuable expertise in a more structured and resource-conscious process.
Needed tools
Every tech project requires specific tools to make it efficient and effective. Chances are, your team does not use the tools specific to your project on a daily basis. Why should you pay for more tools that only need to be used in a limited set of circumstances?
Your outsourcing team will have all the necessary tools to get the job done.
When not to outsource your software development
Some companies have enough resources and infrastructure to support their current and future project needs. These companies may decide not to outsource work to a third party.
Due to the continuous investment in training to keep staff expertise current, it is recommended that if your company chooses not to outsource, your core competency should include software development. 
If that's the case, and your organization can support that continuing goal, outsourcing software development may not be necessary. The major limitation is the size of your enterprise and its available resources. 
Without a doubt, there are scenarios where it makes more sense to develop expertise and actual software in-house. However, it's not always a realistic option for all businesses.
If you feel uneasy about a potential software development outsourcing firm, it's best not to work with them. Continue your search. There are plenty of great partners out there that could bring you better long-term results. Even if you decide not to outsource, there could be some value in forming relationships with trustworthy vendors should a need ever arise.
Let us do the heavy lifting.
Are you ready to start a new software development project? Work with our local team of software designers and developers. Or, let us help you recruit a team of your own. We prioritize both options to help your organization make the best decision for its unique goals and needs.
Questions to ask when outsourcing
If you're still on the fence about deciding if you need to outsource your project, run through this list of questions to help you make your final decision.
What is your overall project budget? 
What is your project timeline?
What are your project goals and requirements?
What is your team's capacity to take on new projects?
Do you have the staff you need to complete your project?
Do you have the budget to hire?
Does your staff possess the necessary skills to complete the project efficiently?
Given your current resources, will your project launch on time? 
Making the final decision about custom software development outsourcing
In summary, there're many added benefits to outsourcing, which is why many companies use this method as a resource. But there are also plenty of reasons businesses may decide to keep their projects in-house. 
At the end of the day, the choice is up to you. The best choice is the one that's right for your business and project needs.
Whether you're using the outsourcing model for your project or keeping it in-house, or if you're looking to keep your project on track, you'll benefit from reading our checklist for making great software. Download this resource below.
---
Ann Mooney
Director of Business Development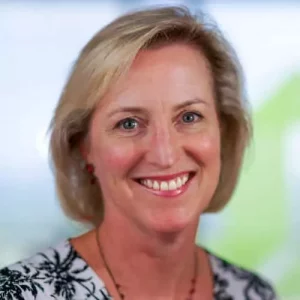 Ann Mooney is the Director of Business Development at SOLTECH, and has over 30 years in Sales and Account Management in the Technology, Telecommunications, and Medical Industries. Ann's key specialties are building long-term business relationships, results-driven sales, and account management.
Ann joined SOLTECH in 2016, she works directly with SOLTECH's clients to help find them the best technology solutions for their business. Ann utilizes her strategic leadership and proactive problem-solving skills to continually grow SOLTECH's business and ensure excellent customer service.
With her years of experience in the technology industry, Ann likes to share her expertise to educate her audience on the enhancement of workplace productivity and growth through software solutions in her articles. Her insights offer advice on important considerations for creating custom software, including initial steps, development costs, and timelines, as well as the advantages of collaborating with a skilled software development team.