Salesforce for Nonprofits: What Can Salesforce Nonprofit Cloud Do For Your Organization?
As a nonprofit, you understand the value of using a good CRM to nurture your contacts and grow your organization.
When using a CRM like Salesforce Nonprofit Cloud, it's important that it's set up properly and all your data is uploaded and connected correctly.
Maybe you've run into a situation where you've wanted to do something in your CRM and you came across some roadblocks. What should you do? Because we've worked with customizable platforms like Salesforce for many years, we've helped countless nonprofits answer questions like these.
Salesforce Nonprofit Cloud is a multi-level completely customizable platform. The possibilities it provides nonprofits are nearly endless. Keep reading to learn more about Salesforce for nonprofit organizations.
What is Salesforce Nonprofit Cloud?
Salesforce Nonprofit Cloud is a CRM platform designed to help not-for-profit organizations. It can support better case management, donor relationships, integration of data, and much more. It's a valuable piece of nonprofit technology built on a foundation of proven Salesforce CRM.
If you use Nonprofit Cloud, you  have access to use the platform as well as the Power of Us Program.
This program is made up of a community of other nonprofits. This community provides a set of tools that will help you on your way. The Power of Us is also where you can apply to get 10 free licenses a year. That's right — Salesforce offers 10 free yearly user licenses to nonprofit groups.
Read on to find out more about how Nonprofit Cloud's toolbox can help your organization. Below, we will outline each tool and what it can do for you.
What is Salesforce Nonprofit Cloud Program Management?
The first tool we'll cover is Program Management. It was designed to help your organization streamline your nonprofit's case management processes. It can do everything from case management tracking and reporting to helping improve client and program management services.
Some of the practical applications available out of the box include:
Tracking outstanding tasks and client needs
Better understanding the client journey
Recording all client notes in an easy-to-find way
Delivering client assessments
Analyzing insights that matter
And much more.
What is Salesforce Nonprofit Success Pack?
In a nutshell, Salesforce Nonprofit Success Pack (NPSP) is an application that can be installed on top of the Salesforce platform to provide specific donor management functionality.
With the out of the box platform, you can track donors' donations and certain types of volunteer data. You can use this donor management solution to track your organization's fundraising leads, engage in prospect research, monitor other aspects of your fundraising campaigns, and more.
When it comes to reporting, NPSP provides donation data aggregation and roll-up reporting functionality like no other CRM out there. With individual donor profiles and 360-degree campaign views, you have more control. It's easier to analyze your successes, fine-tune your strategies, and identify new stewardship opportunities.
What is Salesforce Nonprofit Marketing & Engagement?
Salesforce Nonprofit Marketing & Engagement tool is designed to help you connect with your donors, clients, and partners every step of the way. These tools are functions of Marketing Cloud & Social Studio.
If you purchase Marketing Cloud, there is an abundance of other powerful tools available. Inside the Nonprofit Marketing & Engagement tool, you can turn interactions with your organization into data you can use.
It's all possible, from creating targeted triggered email campaigns to building tailored journeys and coming up with a plan to get more engagement on social media. This tool can do it all. Not to mention, you'll gain access to a marketing analytics suite that can help you turn your efforts into actionable results for your organization.
Is Nonprofit Cloud Salesforce CRM Free?
Salesforce offers grants of up to 10 licenses for qualifying organizations through their Power of Us program.  Nonprofit Cloud can be offered free of charge if you qualify.
However, to use the tool to its fullest potential, you will need to customize the platform to meet your organization's needs. Do know that this process could take some upfront time and cost, but it can pay off immensely in the long run — if done correctly.
Nonprofit Cloud Implementation
As you can see, Nonprofit Success Cloud has a lot of helpful out-of-the-box features at its core. With all of the capabilities the platform offers, from donor management functionality with NPSP to case management with program management, to optimizing your marketing with the marketing & engagement tool, you might think you're all set already.
What more does your organization need? To maximize Salesforce Nonprofit Cloud, you'll need to expand its functionality and tailor its solutions to work for your nonprofit.
What are some of the ways to customize Salesforce Nonprofit Cloud during the implementation process?
Custom Fields & Field Labels
Nonprofit Cloud comes standard with a wide variety of relevant information for donation and constituent management. However, some of the fields may not directly line up with your institutional language.
Fortunately, it is very easy to hide, change, or add individual fields in Salesforce Nonprofit Cloud to suit your needs. Hiding a field doesn't necessarily remove it forever. If it's something you may not track now but want to in the future, the field can easily be made visible again.
Changing a field's label in this Salesforce product is also possible. This type of change does not affect the functions of the platform when doing so.
Data Management & Cleansing
Salesforce with NPSP provides a single place to store and manage your organizational data. That includes donation records, in-kind gifts, grants, constituent records, business and organizational affiliations, case histories, notes, attachments, and custom attributes you might want to store as well.
One of the most important success factors in a new implementation of Salesforce for nonprofits is the quality and cleanliness of the data that you import into this CRM platform.
NPSP makes this as simple as possible with a set of import templates that are designed to allow for account, contact, and donation data to be standardized for import. However, the task of consolidating and cleaning data is one of the most important and often most difficult tasks to accomplish.
This requires extra care and thought upfront. However, spending time on this task ensures a clean and smoothly operating constituent management system.
Integration
One of the most powerful features in Salesforce Nonprofit Cloud is its ability to integrate with existing platforms and tools.
Salesforce also offers programming interfaces that allow developers to utilize back-end information in custom software such as mobile applications or websites.
Maybe you have an accounting software you use that you want to tie with your donation reports. You can customize Salesforce to integrate with your existing solutions. Note, if you use Outlook 365 or Gmail you're also able to integrate with these. This can be a huge time saver when you're sending tons of emails.
Email templates
If you send out a lot of emails, it could help to have templates for all of your needs. Maybe you have a set of emails that you always send out with your campaigns and don't have the time to recreate the email design.
You can customize your organization's email templates in the way you want using Salesforce for Nonprofits. Salesforce is a powerful marketing and communication tool, which becomes even more powerful with standardized messaging.
A good set of email templates will allow you to send curated emails direct to both:
Individuals (such as with case updates, or donation acknowledgments)
Mass audiences (such as with invites to galas, donation campaign emails, or newsletters).
Email Templates can contain merge fields that populate based on the contact they're sent to. This means one template can appear individualized for thousands of people. It's a major time-saver that also helps your nonprofit consistently brand its messaging.
Roles & Permissions
Maybe you need to set admin roles and permissions for security purposes. Or, perhaps you want one team to work in the tool in a specific way and another team to work in it differently. Either way, you can configure Salesforce for Nonprofits to work how you need it to.
Custom Reporting
Salesforce Nonprofit Cloud reports provide helpful surface-level analysis. If you're looking for a deeper approach, you might need to build some custom reports. Not every organization will need to track the same metrics.
You can create custom reports that are pre-generated to provide you with all you need to track and optimize your NPO's growth.
Automation
As a nonprofit, you're sometimes short on time and staff. The power of automation can put more time back into your team's days on a consistent basis.
For example, if someone gives your organization a gift under $10,000, a trigger can be set up to automatically send them an email. And, if someone gives you a gift over $10,000, a task can be automatically generated to alert your team to call them.
In addition, automation can help improve efficiencies by generating tasks and reminders for staff. These are based on evaluated criteria or operational triggers. With those guidelines in place, staff do not have to constantly look for changes that happen in real-time.
Volunteer Management
While not part of the base NPSP package, Volunteer Management is a function that is common to many nonprofit organizations. Fortunately, Salesforce offers an installable package that adds Volunteer Management features.
With this Salesforce Nonprofit Cloud module, you can track volunteer contacts and other basic volunteer management data.
If you want to go more in-depth with volunteer management, you'll want to add the Volunteers for Salesforce app to your platform. With this tool, you can customize your CRM to help run your organization's volunteer program. This allows organizations to set up volunteer campaigns, add roles and volunteer opportunities, and allow the registration of a volunteer for those opportunities.
Applications and Extensions
For more sophisticated functional additions, Salesforce has the AppExchange. This is a vast marketplace offering add-on solutions and packages that extend the functionality of Salesforce in numerous ways.
These include the ability to process donations, interfacing with third-party tools such as financial systems, electronic document "e-sign" systems, event management, peer-to-peer fundraising, and many more.
Getting Help with Salesforce for Nonprofits
In summary, using Salesforce Nonprofit Cloud can help to maximize your organization's growth. There are countless options available to you to make the platform work more efficiently for your organization.
You may feel like this is a lot to wrap your head around. Know there are plenty of resources available to you. That's true no matter where you are in the process. If you're in need of some extra help, there are experts who can support you.
When you get started on a project, it's best to walk through a discovery phase. This will help your organization identify your project's goals and outline what it will take to get you there.
We've created a guide that will walk you through what you should be asking in the discovery process to make sure the rest of your project is set up for success. Download the guide below.
---
Ann Mooney
Director of Business Development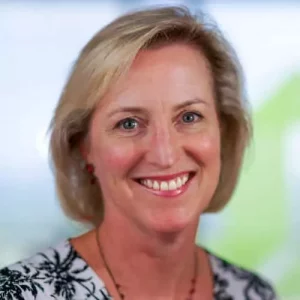 Ann Mooney is the Director of Business Development at SOLTECH, and has over 30 years in Sales and Account Management in the Technology, Telecommunications, and Medical Industries. Ann's key specialties are building long-term business relationships, results-driven sales, and account management.
Ann joined SOLTECH in 2016, she works directly with SOLTECH's clients to help find them the best technology solutions for their business. Ann utilizes her strategic leadership and proactive problem-solving skills to continually grow SOLTECH's business and ensure excellent customer service.
With her years of experience in the technology industry, Ann likes to share her expertise to educate her audience on the enhancement of workplace productivity and growth through software solutions in her articles. Her insights offer advice on important considerations for creating custom software, including initial steps, development costs, and timelines, as well as the advantages of collaborating with a skilled software development team.