How To Get Started With Your Software Idea
Getting started with a software idea can be exciting. You have come up with something that you feel could benefit others somehow. Or at least they would find enjoyment in it. This software could come in the form of anything from small business accounting platforms to mobile apps for tracking ice cream flavors.
However, it's natural to feel overwhelmed by the amount of work and effort involved in creating a software product. But, with the right approach, it's possible to turn your vision into reality.
And while each app is unique, there are still some best practices when it comes to creating a successful app. Here are a few considerations to get you started as you ponder the question, "I have a software idea, now what?"
Steps to help you get started with your software idea
Remember, having an idea for an app is not the same as having a business plan for your app development company. But, if you have an idea for an app, you can build on it to establish your business idea.
Here are some best practices to consider along the way:
Validate your software idea
It seems like a million apps are popping up every day, and you might think many of them are great ideas. But you also understand that not every mobile app idea is good. At least, not to your preferences. You can get ahead of that by better understanding the demand for your idea.
Before you start investing your time and resources into building a software product, it's important to validate your idea. You can do this by conducting market research and talking to potential customers to get their feedback on your product idea. This will help you determine if it's worth pursuing.
Define the problem your software solution will solve
Let's face it, something inspired you to come up with this good software idea. Was it a specific situation or an ongoing scenario? Is it something that you think others experience on a regular basis as well?
Chances are, something inspired you to come up with a good idea for an app. Therefore, it is worth exploring further.
Identifying the problem that you're trying to solve is a crucial step in developing your software. This process involves identifying and understanding your target audience's pain points and needs. And then determining how your software solution can address those needs effectively.
Define your target audience
Once you establish the need for your software product, you will have a better grasp of your target audience. But again, defining your target audience takes additional exploration. You must know your target audience well in order to build an app that meets their needs and solves a problem.
After all, there is no single app that everyone relies on. Different people have all sorts of different interests and needs. Conduct market research, talk to potential customers, and use online tools to help define your target audience.
Plan your software development budget
Developing a software product can be expensive, so it's important to plan your budget carefully. This means coming up with a business plan. Determine how much money you need to build your software products and to cover ongoing expenses. Include such things as salaries, office space, and marketing.
You can also consider seeking investment from angel investors or venture capitalists to help fund your project. It is even common for app developers to turn to crowdfunding platforms to turn their software ideas into realities. If you demonstrate the need for your app, as well as an audience, potential investors are likely to be more interested.
Create a design for your software solution
After validating your idea and defining your target audience, it's time to start building a Minimum Viable Product (MVP). An MVP is a stripped-down version of your software. Essentially, it only has the core features required to solve the problem you're trying to solve.
This allows you to test your product with a smaller investment of time and money and get feedback from potential customers. There are technology companies that can support you in designing the functional, creative and technical designs of your software.
MVP Design Aspects Include:
Determining the best tools you need to use to build your software. What technology stack you are going to use that can be supported to build your software and maintain it.
Mapping out a Solution Design to translate your early vision and business requirements into actionable ideas. Review your business objectives, look at the technology requirements, and craft a solution design unique to your business.
Create a technical blueprint to guide your software implementation. The technical blueprint is where a development expert takes the solution design and overlays the technical infrastructure that will power it. This ensures the design works with today's technology and is also prepared for the future, too.
Work with an architect to create a Creative Design for your project. This ensures your project is engineered to deliver a highly branded and outstanding user experience that uses the latest technology.
Get feedback and iterate
Once you have a working MVP, it's important to get feedback from potential customers. This will help you improve your product and make it even more valuable to your target audience.
Start building your software solution
With your MVP tested and validated by your test users, you are now ready to start building. Depending on the scope of your project, you may need to assemble a team of developers, designers, and other professionals.
Having the right people in the right roles will help bring your software idea to life. You can either work with the team that built your software design or hire a new team.
On one hand, you could personally hire your team. On the other hand, you might be more efficient by partnering with an IT staffing company. An IT staffing company can hire a team for you that meets all of your specifications.
A few things to consider when assembling your team are:
Make sure your team has the appropriate technical skills and experience to build your software
Make sure your team can work in repetition. Having an agile methodology is one of the most popular approaches to project management. This is due to its flexibility, ability to change, and high level of customer input.

Launch and market your software product
Once your software is ready to launch, it's time to get the word out and start marketing your product. Use a combination of online and offline marketing tactics to reach your target audience. This will help you build a strong community around your product.
In conclusion, getting started with your software idea can be a challenging process. But, with the right approach, it's possible to turn your vision into reality. By following these steps, you can turn your software idea into a reality.
If you're looking to further your knowledge of software development, don't miss our free eBook – Your Software Checklist below.
---
Ann Mooney
Director of Business Development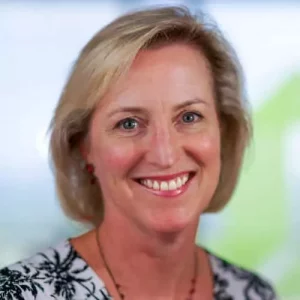 Ann Mooney is the Director of Business Development at SOLTECH, and has over 30 years in Sales and Account Management in the Technology, Telecommunications, and Medical Industries. Ann's key specialties are building long-term business relationships, results-driven sales, and account management.
Ann joined SOLTECH in 2016, she works directly with SOLTECH's clients to help find them the best technology solutions for their business. Ann utilizes her strategic leadership and proactive problem-solving skills to continually grow SOLTECH's business and ensure excellent customer service.
With her years of experience in the technology industry, Ann likes to share her expertise to educate her audience on the enhancement of workplace productivity and growth through software solutions in her articles. Her insights offer advice on important considerations for creating custom software, including initial steps, development costs, and timelines, as well as the advantages of collaborating with a skilled software development team.