What Do You Do When Your Software Project Costs Are Over Budget?
It's a horrible feeling to realize your project cost is more than you expected. Once you get over the unexpected news, it is time to get down to work and get the project back on track.
Understanding How Your Software Project Budget Got Off Track
Starting from your original budget, ask your project manager to give you a rundown of where the project ran over.
Were there changes in the project scope or direction?
Was the impact of the changes communicated and fully understood?
Were there unknown issues the team had to work through?
What was the cause of the unknown issues?
Were these communicated along with the cost impact?
How many tasks took longer than anticipated and why?
Working Collaboratively On Next Steps
Once you rewind where the project went off track, and look at what you and your team could have done better, I would suggest asking for your project team's input.  What ideas do they have on how to manage and deliver the project better? Are there things they think you could be doing to help them be more effective in delivering the project?
What ideas do they have on how to manage and deliver the project better? Are there things they think you could be doing to help them be more effective in delivering the project?
Together you can agree and set expectations on the transparency, cost management processes and delivery processes you both need going forward.
Then, you as the software owner get to make decisions about what to do with the project and the remaining scope.
Sifting Through Your Software Project Budget Options
To manage your project costs after it's over budget or near that point, you have several options to consider.
Ask your project team if they have creative ideas on how to deliver your features for a lesser budget. Maybe look at tools or components that can cut down development time.
Eliminate or simplify future features to keep the budget down
Re-establish a new target budget, reset expectations internally, and manage tightly to the new budget
Evaluate other software firms if you feel the issues stem from the capabilities of your project team
Ask for fee concessions if you feel you were billed for issues caused by your project team's inexperience or internal issues
Conclusion
Running a successful project is like sailing a ship. During the journey, the ship will experience unforeseen currents and winds. When it comes to software, the question is, do you have the information you need to know you are going off-course, and are you course correcting along the way?
When you discover your project is off track, it's best to put feelings aside and see how you got to where you are today. Try to work with your software partner rather than against them to come up with creative ideas on how to deliver your project with a reduced budget, and give you the monitoring and tracking transparency you need to keep the project on track going forward.
If you are in the middle of a software project and not sure how to manage the changes and issues you are seeing, then feel free to reach out to us. We are not the right fit for all projects, but we are happy to have a conversation and see if we can help answer any questions you have, and get your project back on track.
The 5 Pillars Of A Successful Software Project
We want to help every software project begin on solid ground. In The 5 Pillars Of A Successful Software Project, we share the five essential ingredients of every software project.
You can grab a copy of the guide below and share it with your team!
---
Ann Mooney
Director of Business Development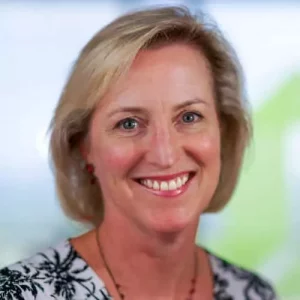 Ann Mooney is the Director of Business Development at SOLTECH, and has over 30 years in Sales and Account Management in the Technology, Telecommunications, and Medical Industries. Ann's key specialties are building long-term business relationships, results-driven sales, and account management.
Ann joined SOLTECH in 2016, she works directly with SOLTECH's clients to help find them the best technology solutions for their business. Ann utilizes her strategic leadership and proactive problem-solving skills to continually grow SOLTECH's business and ensure excellent customer service.
With her years of experience in the technology industry, Ann likes to share her expertise to educate her audience on the enhancement of workplace productivity and growth through software solutions in her articles. Her insights offer advice on important considerations for creating custom software, including initial steps, development costs, and timelines, as well as the advantages of collaborating with a skilled software development team.