What are the Costs of Onshore versus Offshore Software Development?
Which costs more onshore or offshore custom software development? This is a question we've been asked many times over the years.
You might think it is obvious that offshore software development versus onshore software development is going to cost your business less. But the answer to this question may surprise you.
Before we get into the cost of outsourcing your project to an onshore or offshore vendor, you must first understand the definition of each.
Onshore Software Development: If a vendor is an onshore company this means they are located in your country.
Offshore Software Development: If a vendor is an offshore company this means they are located outside of your home country.
Offshore software development costs Vs. onshore development costs
Chances are your business is considering going with an offshore development company to save on costs. Offshore development company hourly rates often start at $30 an hour, in comparison to an onshore company that can start at $130 per hour. If your business is looking to cut costs this may sound all well and good on the surface, but you get what you pay for rings true in this arena as much as any other.
Before deciding, first, ask yourself what are you "really" getting for the cost. If you want to avoid unnecessary challenges and hidden fees during your project, there are several things you and your team need to know before making your decision.
Things to consider before working with an offshore company
If you think about the fact that offshore developers are on opposite sides of the world, than you can imagine that there will be many cultural differences that could delay your project. This could also end up costing you more in the long run.
If you go with an offshore vendor there may be some of the hurdles and these are ones you will need to consider:
Language barriers: English may not be your offshore developer's first language. Because of this, your project could take more time since you will have to make sure everything is clearly understood.
Lack of knowledge of your business: Because of the cultural differences it may be challenging for the developer to understand your business. Many of the problems your business needs to solve will require a deep understanding of the user which may be hard for an international partner to comprehend.
Communication barriers: Every software project has steps where clear communication is required to move the project along. One of those is the discovery phase, and this is where you will outline all your project requirements. If this is done incorrectly or anything is missed in this step, it can cause possible delays due to rework and features being missed. If there are issues it could cause your budget to increase and your project not to launch on schedule.
Time zone constraints: Offshore developers typically won't work on your 9-5 schedule. You will need to have team members who can make themselves available during non-traditional hours to communicate with the offshore team as needed.
Difference in expectations surrounding quality: Cultural differences can cause confusion in relation to quality expectations. People that live in other cultures can have different definitions of quality. This could result in unnecessary back and forth communication to iron this out.
High employee turnover: Because many offshore developers are required to turnaround projects quickly, they may get burned out and leave. This means a new person could need to come on to handle your project at any point during development.
Specific programming language used: Different countries have programming language preferences that may not be the same in your area. If the language they choose is not common where you live, it could make it hard for your team to edit and support the new software in the future. This may mean you would have to go back to that offshore vendor anytime you wanted to make changes to the code.
If you're on a tight budget, when you add up all the extra time and resources you will have to plan for with using an offshore vendor, this may not be your best option.
Things to know before working with an onshore company
Since onshore companies are in your backyard, you speak the same language. Onshore companies have higher rates than offshore upfront but if you work with the right vendor and plan your project out properly, you will likely see the long-term value. Some projects don't require a lot of hands-on guidance and can be flexible with their launch dates and budget so the offshore challenges may not be as big of a hurdle for them. If this is the case, an offshore vendor may work for those type of projects.  However, if your project could benefit from working more closely with a vendor, you might want to look at going with an onshore company.
What can you expect when you work with an onshore development company?
Face to face communication: Knowing you have a developer who can be available when you need them, and that you can go to their office to see who is working on your project provides peace of mind. Because clear communication can impact everything from your project requirements, timeline and budget, it's important to pick a vendor that understands what you need.
Higher quality work: Because there are no barriers between the design and development teams this allows them to work closely with the product owner to ensure that the project is executed successfully. Due to the ease of collaboration between teams this typically leads to a higher quality end solution.
Tailored project management: According to a survey by PWC, Agile projects are 28% more successful than traditional waterfall projects. If you decide to go with an onshore vendor, working with an agile project management model will be easier to manage. An agile model depends on clear communication and the ability to pivot when needed. Because of the challenges of offshore vendors, they may not be able to offer what is needed to make this model work for your business.
Opportunity for creative collaboration: Throughout your project there are opportunities to collaborate with your vendor. If they are onshore, they have a better chance to understand your business and can clearly comprehend your ideas and feedback to set them in motion.
Faster time to market: Because communication is clearer chances are onshore companies will have fewer issues arise which may cause project delays. For example, due to the communication and technical challenges, it could take an offshore company a year to finish your project whereas, an onshore company may be able to complete that same project in four- six months.
Same tax policies & laws: If you work with an onshore vendor, you won't have to worry about international taxes that you may or may not be familiar with. This may be difficult to familiarize yourself with another country's laws should any legal concerns arise.
Support plans: Most onshore vendors will offer you post-project support plans. Whereas offshore vendors may offer it, but it may not be helpful to your business considering the communication and time zone constraints.
 Which option costs more offshore or onshore?
The answer to the question of what costs more onshore or offshore development will depend on the scope of the project, your business goals and how much hands-on support you will need for your project. In the end the choice is up to you, but you need to understand your ability to closely manage the offshore team because each option has its pros and cons. If you choose an offshore vendor just remember there are obstacles, you'll have to overcome to keep your budget and timeline on track.  If you choose an onshore vendor, you can be opting for a long-term partner that will be there for your business now and in the future.
Before you choose a development partner, make sure to read our guide on the questions you should ask a potential vendor to be sure you're set up for success. Download the guide below.
---
Ann Mooney
Director of Business Development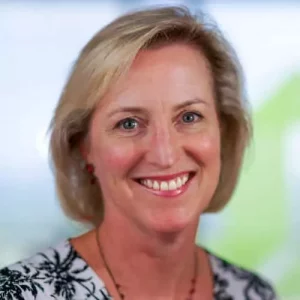 Ann Mooney is the Director of Business Development at SOLTECH, and has over 30 years in Sales and Account Management in the Technology, Telecommunications, and Medical Industries. Ann's key specialties are building long-term business relationships, results-driven sales, and account management.
Ann joined SOLTECH in 2016, she works directly with SOLTECH's clients to help find them the best technology solutions for their business. Ann utilizes her strategic leadership and proactive problem-solving skills to continually grow SOLTECH's business and ensure excellent customer service.
With her years of experience in the technology industry, Ann likes to share her expertise to educate her audience on the enhancement of workplace productivity and growth through software solutions in her articles. Her insights offer advice on important considerations for creating custom software, including initial steps, development costs, and timelines, as well as the advantages of collaborating with a skilled software development team.