How Much Does Custom Enterprise Software Cost? Key Factors That Influence Price
If you're thinking about building custom enterprise software for your business, you're probably wondering, "how much is this going to cost my company?".
That's a great question, but it's a tough one to answer. The cost of enterprise software is highly variable. Requirements, scope, and other factors all come into play.
Sharing an average cost of enterprise software can oversimplify the answer to this question. However, a range can be very helpful as a guide.
In our experience, most custom enterprise software projects fall somewhere between the $100,000 and $750,000 mark. That's the total cost to design, develop, and implement the application.
To get a better idea of where you fall on that spectrum, you must first understand the factors that influence enterprise software cost.
Here are just a few factors that will determine how much you'll likely end up paying for your custom enterprise software solution:
Software Size
A custom enterprise system is priced based on how large the software program is. Enterprise projects are usually for corporations, fast-growing mid-sized companies, or well-funded startups.
It makes sense that these software programs are vast, must support lots of users, and consist of many pages or screens. All of these considerations will cause the price of enterprise software to rise.
Outside Software Integration
Integrating with external software introduces a lot of unknown variables into the equation. You just don't know how well the other system lets information in or out, and what hoops you have to jump through in the development process.
Sometimes the integrations are effortless, and won't add significant time or work to the project. However, other integrations are extremely difficult. Typical integrations like payment providers, such as PayPal or Authorize.Net, are extremely easy to complete. The same goes for credit check services from providers like Equifax or Experian.
Older and lesser-known systems may pose a challenge and increase the project cost. The number of complex integrations needed can significantly influence the cost of enterprise software.
Implementation
It's very important to carefully consider who will be supporting your implementation. Some custom software development firms offer implementation services and support. Others create the software and leave you to either sink or swim, finding your own support.
It's important that you talk with your development team about if they offer support services and prepare for what happens once the software is in your hands. If your development firm doesn't offer these services as part of the overall project, you will end up paying even more to secure support from a third party.
Let us do the heavy lifting.
Are you ready to start a new software development project? Work with our local team of software designers and developers or let us help you recruit a team of your own.
Software implementation costs cover planning and organizing your project, training, prototyping functional areas of your business, installing the software, configuring the system, implementing process changes and completing conversions.
Training
Have you thought about who will show your employees how to use your new system? When you talk about the overall cost of software development, you must talk about training.
Every new software includes a learning curve for users. That curve can be steep, especially for those who are unfamiliar with utilizing an enterprise solution, or those who aren't as technologically-savvy as others.
There are initial costs associated with training your employees on how to properly use the system. There are also costs associated with continuing training, specifically on-site training when needed. Ask your development team about the training services they offer and factor that cost into your budget.
So, How Much Does Custom Enterprise Software Cost?
In our experience, small-to-mid-sized businesses can expect custom software development costs to range anywhere from $100,000 to $750,000.
There's no doubt that such a price range represents a significant investment, even on the lower end. However, a properly implemented custom enterprise software solution will pay for itself quickly.
If your budget falls somewhere in that range, and matches the size figures shared above, with allowances given to the factors that typically increase cost, chances are it can be developed to your budget.
Interested in learning more about how custom software can benefit your business? For over 25 years, SOLTECH has helped people like you build successful businesses with the creation of custom enterprise software. We'd love to talk to you about how we can help your business, too.
Resource: The Checklist For Sharing Your Software Vision
Before you get started in developing your software app, your thoughts and ideas should be clarified and written down so they can be consistently and easily shared and understood. To help you get started on the right foot, we have created a checklist.
You can grab a copy of that checklist below and share it with your team!
---
Ann Mooney
Director of Business Development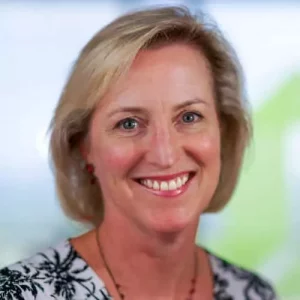 Ann Mooney is the Director of Business Development at SOLTECH, and has over 30 years in Sales and Account Management in the Technology, Telecommunications, and Medical Industries. Ann's key specialties are building long-term business relationships, results-driven sales, and account management.
Ann joined SOLTECH in 2016, she works directly with SOLTECH's clients to help find them the best technology solutions for their business. Ann utilizes her strategic leadership and proactive problem-solving skills to continually grow SOLTECH's business and ensure excellent customer service.
With her years of experience in the technology industry, Ann likes to share her expertise to educate her audience on the enhancement of workplace productivity and growth through software solutions in her articles. Her insights offer advice on important considerations for creating custom software, including initial steps, development costs, and timelines, as well as the advantages of collaborating with a skilled software development team.